Since having Roo last year, I seem to have lost my cooking mojo. It's probably the lack of time and energy! I used to love whiling away hours in the kitchen, singing along to my tunes while I whipped up a nice evening meal for Dave and I. Now, I struggle to bring myself to do it - what with the quite involved night-time routine babies have, if we eat before 9pm, we're usually doing pretty well.
This is where batch cooking has very much come in handy. It started when I was pregnant: at about 6/7 months, I decided I was going to start prepping a ton of meals ready for when Roo arrived. I knew neither myself nor Dave were going to be much use in the kitchen with a newborn and wanted to get ahead of the curve. I'm so glad I did! For the first month, at least, we had some really delicious meals ready in the freezer to just whip out in the morning, then heat up that night.
After those first 4-6 weeks, however, things started to go downhill. We ended up having quite a lot of takeaways or nipping into the supermarket on the other days to get something quick. Not good for the bank balance or waist line! As such, I've started doing batch cooking on the regular, cooking up the dishes when I have the time and wherewithall to do so during the day time.
I have a few tricks up my sleeve to make things easier on myself - like the batch cooking, they take a bit of time up front, but it's totally worth it. One of which is buying some of the veg in bulk (e.g. onions, carrots, celery, peppers), chopping them all up in one go, then freezing in individual bags. They last ages and are so helpful to have on hand when you're meal prepping. I'll go into more detail on some of these tips in a future blog post.
Below are some of my favourite recipes that I've made a number of times. They all freeze really well (they usually state on the recipe method at what point to stick in the freezer), which is great for preparing ahead. Hope you find them helpful!
---
This is a bit different from your usual chicken tagine, as the sauce is quite thin; however, it's still super tasty. It's also pretty quick to put together, as well, which is something I'm always up for! Instead of chicken breasts, I tend to use thighs and drumsticks (or just thighs), as I find them more flavourful, and they don't dry out like breast meat can.
I also swap the fresher unground cumin and coriander seeds, and sometimes the cinnamon sticks, for pre-ground spices - sure, they may not be quite as good, but it always tastes great to me. If you have the fresher stuff, go for it. It just saves a bit of cash and time. The saffron and coriander is also somewhat optional, as it just adds more colour and decoration. This one is great for colder nights when you want a bit of a flavour bomb. Serve with spiced rice, couscous or flatbreads to complete the meal.
---
I wrote about this Bolognese sauce in my lasagne recipe - it's had a bit of controversy in the past, as it's not at all a traditional Bolognese recipe, but it really is delicious, even so. I tend to double the recipe and freeze it, popping it into multiple containers, including one big one to do a lasagne with.
This will easily make 10+ portions of sauce. If I'm separating it into one big lasagne batch and smaller bolognese sauce batches, I usually get enough for 6 individual meal portions, plus enough a large lasagne and a small two-person sized one. Definitely give this a go!
---
I haven't got many veggie recipes in this list (I need to rectify this in future), but this is a really good one. It's very hearty and comforting. It also makes lots of portions and has a good amount of veg in, so great if you're trying to budget and get a bit more 'ruffage' in you.
I swap out the butter beans for cannelini beans, as I usually have those on hand. I also don't use as much courgette as they do in the recipe, but use whatever you wish. It'll easily serve 6 people for lunches or 4-5 hungry people for a dinner - you can bulk it out with some homemade croutons or have garlic bread on the side.
---
A recipe that would be great for a make-ahead dinner party dish. I picked up some frozen lamb shanks from the supermarket, which made it a little cheaper - definitely not one you'd make every week, but it's a nice treat after payday or for a special occasion.
Separate the portions for freezing, especially if not making it for a crowd. We reheated the portions in a saucepan until the meat was hot through and the sauce was bubbling. It's not massively spicy, so tweak if you prefer a bit more heat.
---
This beef bourguinon is not only the easiest version of the dish I've ever made, but also the only one I've tried that isn't bland. I even found Julia Child's lauded version of the French classic somewhat tasteless, when I made the dish from her "Mastering the Art of French Cooking" cookbook recipe, just as Julie (played by Amy Adams) states in the "Julie and Julia" movie. Perhaps I did something wrong and need to give it another go, as many people have recreated it and found it delectable. For now, I'll stick with this super easy version.
This recipe is cooked in a slow cooker and uses an entire bottle of red wine. It doesn't have to be an expensive bottle, but don't cheap out - we did this once and it was horribly bitter, probably because of the long cooking time. It's worth the wait, though. The sauce is slightly thicker than some I've tried; in the 8 hours of stewing, the meat becomes fork-tender and juicy, and the vegetables beautifully soft. If you want a delicious, bowl-lickable dish that'll be ready by the time you get home from work, this one is for you: prep and brown the ingredients the night before, fridge in the slow cooker pot, then pop it on in the morning. Your future self will thank you.
---
Another pretty quick, but very tasty recipe. It's a bit rich, so go easy on the portion sizes. I didn't read the recipe properly the last time I made it and ended up browning the chicken pieces and veg separately, so follow the instructions - it'll save you time and effort!
If freezing, make sure to use a container that you don't care if it stains, as the wine will make it turn a little purple. Try a glass dish, if you have one. I like the tips that Tesco have shared at the bottom of the recipe r.e. saving extra wine and using up leftover ingredients. Super handy!
---
This one is a great sauce to prepare ahead for those nights when you really can't be bothered to cook. Just stop where it says in the recipe (i.e. before cooking and adding pasta), leave to cool for a few hours, then stick in the freezer for another time. You can double this recipe up for lots of future portions.
Try to use good sausages for this - ones you'd eat on their own with mashed potatoes or whatever - we love a particular brand of sausages that have a really good flavour, so I use those.  I would say, halve the lemon, as it's a little bit too much using a whole lemon's worth of zest for the normal recipe amount. Also, if you're not into spice, don't add the chilli flakes, as it doesn't make a huge difference. It's quite a light sauce, so a good recipe for spring/summer.
---
Such an easy dish to make. Just 15 minutes prep, then whack it in the oven. I tend to cook it a little differently from the recipe, as I find the chicken burns with their instructions: the carrots and potatoes take a while longer to cook, so I normally cook them first and set the oven to a lower heat - 180°C (fan) for an hour total. Stick the veg in a baking dish, as described, cook them for half an hour, then pop the chicken on a foil-lined baking sheet separately for the last half hour.
If you're freezing this, either cook just the chicken and freeze it all, or if you're making extra, cook as above, then only freeze the extra chicken portions. The veg doesn't freeze too well, so I'd make that fresh next time. It's always a treat when it's ready to just heat and go!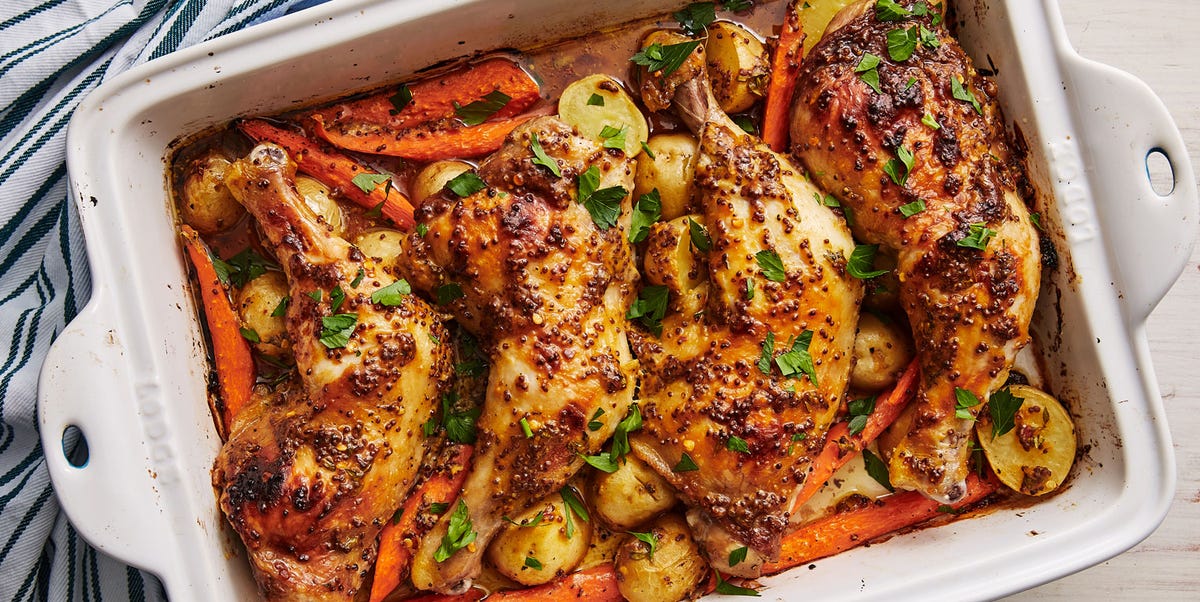 ---
I just recently shared this recipe on the blog - it's one passed on from Dave's Step Mum, Gail, that I've tweaked slightly. It's always a crowd pleaser! You can pack it out with as much veg you like, then serve it up with rice, a jacket potato, or even a side of nachos with all the trimmings (guac, sour cream, salsa).
I've made this chilli numerous times and it's great to make and just pop in the freezer in portions, ready to take out for a quick evening meal or to take to work for lunch.
---
What are your favourite batch cooking recipes? I'm always keen to find new ones, so do drop me a comment. Up soon, a blog post on time saving hacks in the kitchen, so stay tuned for that.